Why I snubbed Saudi offer – Osimhen
Written by Adeola Ibrahim on November 14, 2023
Nigerian striker, Victor Osimhen, has said that the lucrative offer from Saudi Arabia would've changed his life and revealed why he chose to reject the offer although it was a tough choice
The Nigerian striker was the star of the show in the Campania capital last season during their historic Scudetto success, scoring 26 goals and providing five assists across 32 league games. He stood out as one of the most dangerous centre-forwards in Europe, attracting widespread attention from the biggest clubs in the World including Manchester United and Chelsea.
Speaking to John Obi Mikel on the 'Obi One Podcast' via Calciomercato.com, Osimhen gave his thoughts on the Premier League and which clubs he likes.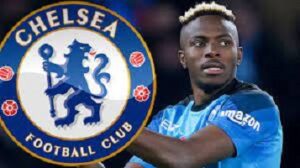 Mikel had first called Osimhen to head to Chelsea next summer, joking about acting as an intermediary.
"Next season I know you will come to Chelsea man! I tell you, I will be the agent who will broker that deal. I will make sure it happens. We are desperate for someone like you since Drogba left the club."
To which the 24-year-old responded that he has two clubs he considers moving to in the EPL.
Osimhen said. "I don't have a favourite Premier League club, but I have two shirts, Chelsea and Manchester United. Many of my friends are Chelsea fans, a few Man United. The Premier League is the most popular league for any African player, it's a great league,"
Saudi side Al-Hilal launched a serious attempt to sign Osimhen in the summer, ultimately offering €200m to Napoli, but president Aurelio De Laurentiis refused to accept, making it clear that he wasn't ready to let the star striker leave just yet.
Osimhen admitted the lucrative offer from Saudi Arabia 'would've changed his life' as he reflected on Al-Hilal's mega-offer in the summer saying, "What was said is true. I have to be honest, I never thought about leaving last summer because Napoli wanted to keep me, but when the offer came from Saudi Arabia, a huge offer, it was hard to refuse. I spoke to Napoli and decided to stay.
"It was crazy… The more I said no, the more they increased the financial offer. It would have changed my life, they never gave up. But I said, no guys, I'm staying."
---